Koplar Properties, Albion Residential and Hartshorne Plunkard Architecture presented their proposal for a $135 million, 30-story, 293-unit luxury apartment building at Lindell and Kingshighway to the community last night at Chase. They launched a website for the proposal – www.4974lindell.com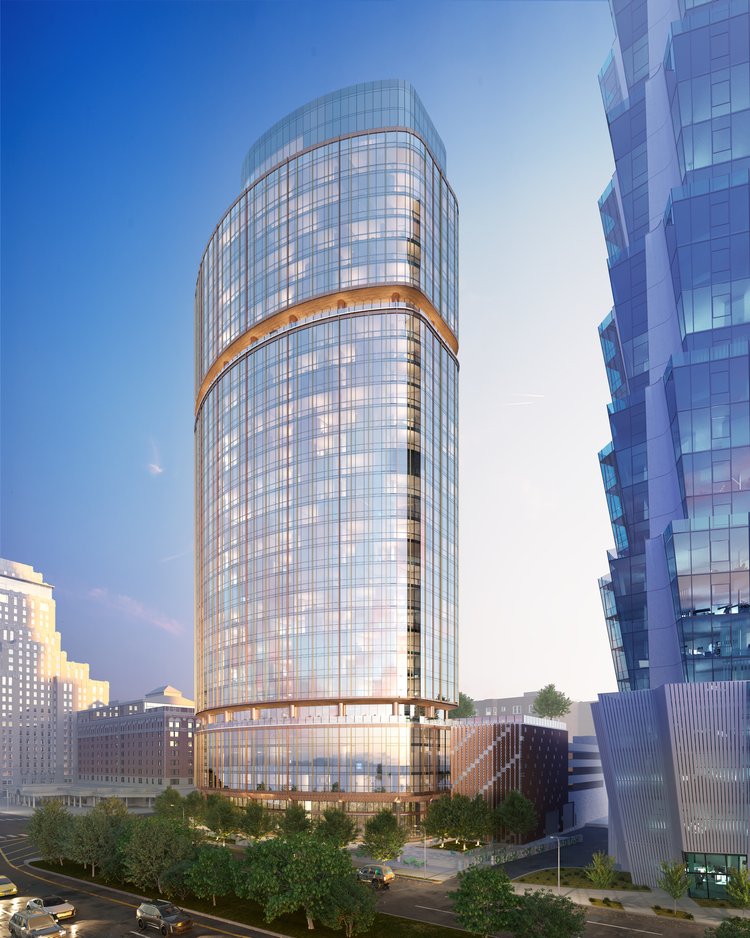 Sam Koplar said the family waited so long to develop the site not for lack of interest or offers, but for lack of a good plan. Albion's Andrew Yule told the story of visiting St. Louis with his boss scouting for a possible project in Clayton that turned out to be unsuitable a year or two ago and driving. Visiting the Central West End and seeing One Hundred and then the parking lot next door, they found the perfect spot. Koplar recounted how his great-grandfather built the Chase, which was state-of-the-art, built to last then and will do the same here. Yule said they want to be good neighbors during planning, construction, and beyond, so send them feedback.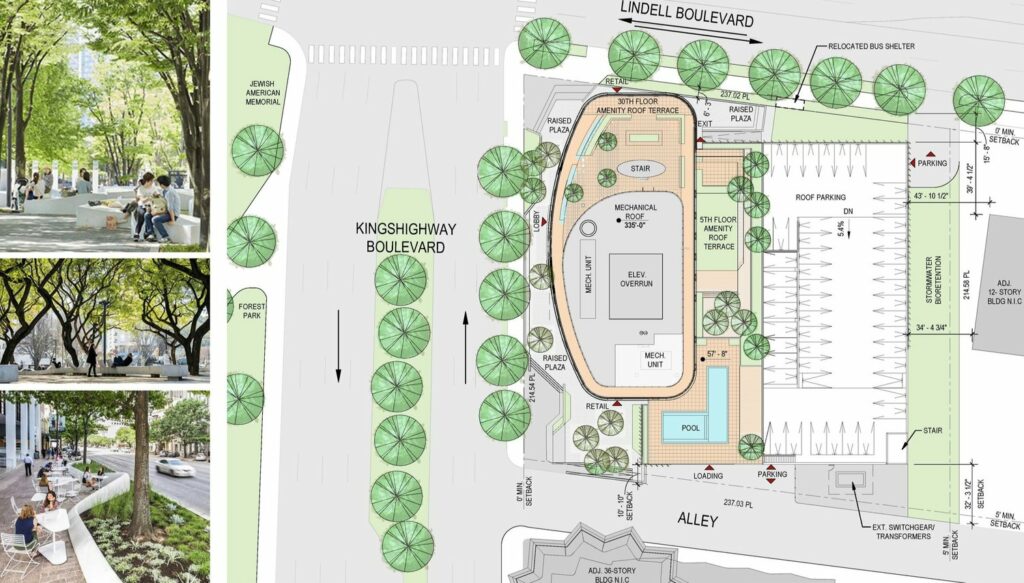 There would be 365 parking spaces with 10 electric vehicle charging stations, 154 bicycle parking spaces and a bike-sharing program. 10 electric vehicle charging stations seems low given current trends. The structured parking lot would be accessible from Lindell and the driveway and would be 45 feet high. They will also build a nicer bus stop on Kingshighway.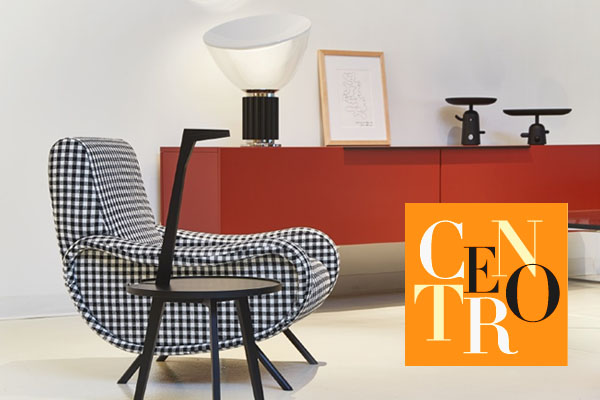 The 10,000 square foot lobby and 11,000 square foot outdoor plaza, which is slightly elevated from the sidewalk, would be open to the public. The plaza will feature local public art.
They expect construction to take 26 months, with the last five being interior work only.
The building would violate the historic district ordinance that calls for a greater Lindell removal. The retreat on the south side of Lindell is maintained almost to Grand. Some St. Regis residents said they wish the pullback was maintained and also spoke of the construction headaches while One Hundred was going up and would like to avoid them this time.
Regarding tax incentives, Sam Koplar said the proposal "needs help" to develop and secure funding. They're committing the city to it. They think a 400% increase in property tax revenue would work for their numbers. The current parking lot's property tax bill was $64,000 in 2021. A 400% increase would bring it to $320,000, or about $1,100 per unit on average. At One Hundred, which got a 95% tax abatement, the average is $270 per unit; without the abatement, it would be around $4,800 per unit. It seems that the reduction sought by Koplar-Albion is around 75%. The duration of the tax relief was not mentioned.
Let the "but for" debate begin. Can't a wealthy tenant pay full freight like the rest of us? If the construction does not take place, there is no new tax base. If this attracts new residents to the city who are not already working there, then there is an income tax. Will the discount subsidize structured parking in the area's most walkable neighborhood that drivers are unwilling to pay for? Is it worth it? The discount would end at some point while our obligation to provide the infrastructure to it is perpetual. Since it's infill, the city doesn't have to build new infrastructure – a common subsidy for new land development on the outskirts of the region that turns into a permanent liability that may or may not be offset by productivity new development.
The incentives mean they will be required to use MBE (Minority-Owned) and WBE (Woman-Owned) employment contracts. They say it will total $37 million. They will also use union labor, 450 jobs.
The numbers may look good for the city – giving up some short-term property taxes to complete the project, or being more productive over the life of the building than without the abatement, plus some additional taxes on income, sales and new residents' utilities right away, but the majority of property taxes go to St. Louis public schools. Yule said there would be almost no children living in the building, so there would be no "burden" on the school district. We have heard this concern in suburban school districts when apartments are offered. The opposition fears transients with children will move into the apartments, enroll them in public schools and burden the school district, because they don't pay the kind of property taxes that owners of single-family homes would. He appeared in the former Crestwood Mall redevelopment proposal which included 225 apartments. Although Yule is right that there will probably be very few children living in this building, I would wager that if anyone living in this building enrolls their child in SLPS, they would be welcome.
They plan to hold another community meeting in April. Stay tuned!